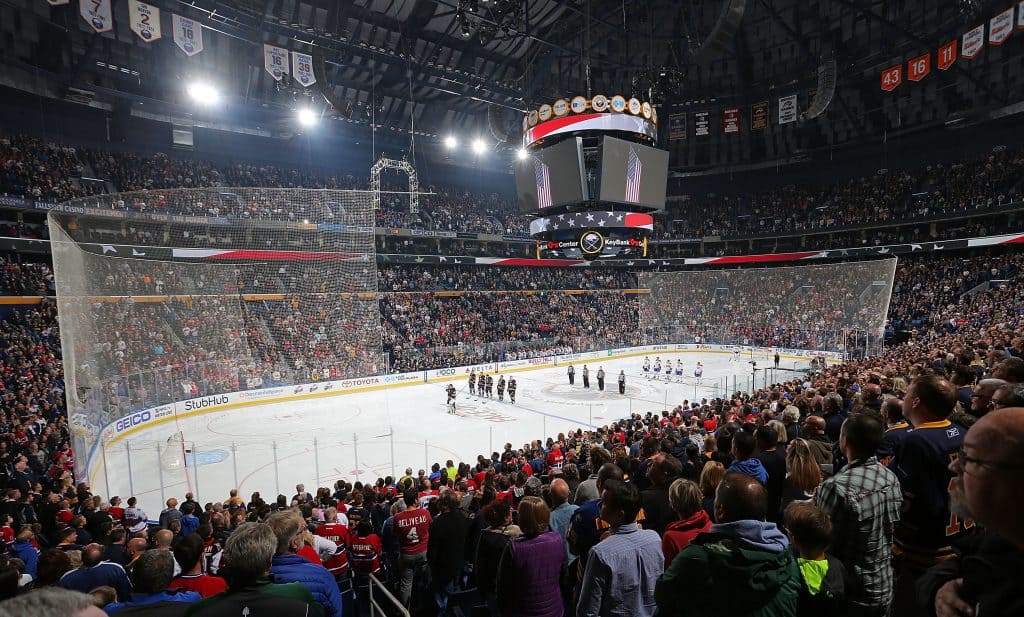 The NCAA Men's Division I Ice Hockey Tournament Frozen Four take place on April 11 and 13 at KeyBank Center in Buffalo, New York.
The KeyBank Center opened September 21, 1996 and is the home of the Buffalo Sabres of the National Hockey League. It seats 18,690 people for ice hockey. There are 80 luxury suites, and about 5,000 of the 18,690 seats are considered club seats.
Nearby Shopping and Entertainment Districts
KeyBank Center is at the western end of Buffalo's Cobblestone District, a historic district bounded by Illinois, Perry, and Columbia Streets, and South Park Avenue.
KeyBank Center is also immediately north of the HarborCenter, a mixed-use building complex containing two ice rinks (The Rinks at Harborcenter), a Marriott Hotel (Buffalo Marriott HarborCenter), Tim Horton's Bakery Café, and several bars, restaurants, and retail shops.
KeyBank Center is within walking distance of Canalside, a complex of open spaces that includes a boardwalk and an entertainment pavilion.
Bars and Restaurants
The Labatt Brew House is new and a lot of fun.  It  just opened about four months ago at 79 Perry Street, about two blocks from the KeyBank Center.
Buffalo Ironworks is also across from street from the KeyBank Center at 49 Illinois Street. Ironworks has a regular schedule of musical entertainment in addition to on tap and canned beer. Left Coast Taco also operates a semi-permanent food stand in the Ironworks.
Cobblestone at 130 South Park Avenue is also very popular pub and night club.
716 Food and Sport, located in the HarborCenter will be quite busy.  It is known for its giant 38-foot video screen and over 70 other video screens. It's next to the Buffalo Marriott Harborcenter and close to the Courtyard Marriott.
Pearl Street Grill and Brewery, at 76 Pearl Street, is one of the most successful brewpubs in the City of Buffalo. It's very popular both before and after games at the KeyBank Center. It's not far from downtown hotels such as the Hyatt Regency and Adams Mark Hotel.
About a five minute walk south of KeyBank Center is the legendary Swannie House at 170 Ohio Street. Swannie House is the oldest bar in Buffalo at almost 100 years old. It's always a fun place to stop, but they only take cash.
After the game, you can go to Chippewa Street in the nightclub district.  There are six to eight establishments there.  It's about a 20-minute walk from KeyBank Center. In all likelihood, the owners of these properties will have free shuttle buses. This was done when the NCAA Basketball Quarterfinals visited Buffalo.
Buffalo Wings
No discussions of a trip to Buffalo would be complete without some guidance on where to eat Buffalo Wings.
There are many places in the City of Buffalo and its suburbs. All have their supporters, but the top suggestions are:
Anchor Bar at 1045 Main Street. Anchor Bar considers itself the Home of the Original Buffalo Wing. It's about a two mile walk north of KeyBank Center. The easiest way to get there without a car may be to Uber or take the Metro to the Allen / Medical Campus stop and walk three or four blocks further north on Main Street.
Gabriel's Gate at 145 Allen Street, which is nearby Anchor Bar, possibly just a bit further away. Take the Metro to Allen / Medical Campus stop and walk west on Allen Street from there.
Healthy Choices
If you made a trip to Buffalo for the Frozen Four, and you want to impress your family with better meal choices than wings or lots of beer and bar food, check out The Healthy Scratch inside the Shops at Harbor Center facing Canalside. This is 75 Main Street.
Transportation
KeyBank Center is served by the Niagara Falls Transit Authority NFTA Metro, a small surface rail system serving the area between the University at Buffalo South Campus at Main Street and Kenmore Avenue in North Buffalo and Downtown Buffalo.
If you are not staying in a downtown hotel, one of the best ways to get to KeyBank Center is to park your car in the Park and Ride Lots at University Station or LaSalle Station, and ride the Metro to your game. Typical travel time between University Station and KeyBank Center is 11 minutes.
Parking
Parking near the KeyBank Center and at HarborCenter generally costs $10 to $20 per game. Bus parking is $30 and up. For more information, see KeyBank Center Parking Locations.
KeyBank Center History
KeyBank Center used to be referred to be several other names, all of which refer to the same bank as it was acquired by different bank holding companies. Initially it was called Marine Midland Arena, it's name from 1996 to 1999. After that, it became HSBC Arena.  HSBC was Marine Midland's parent company until 2011.
In 2011, First Niagara Bank acquired most of HSBC's bank branches in New York, and bought the naming rights to the Arena, so it became the First Niagara Center. Five years later, KeyBank bought First Niagara, and changed the name of the arena to KeyBank Center.
Thanks
RinkAtlas is indebted to Denny Lynch, Colleen Lynch, and Brian Lynch for their help in putting this guide together. They chose the places, we chose how to describe the places and provided location information.
Have a great time at the Frozen Four. We wish we were there to enjoy the games and related festivities with you. And remember RinkAtlas whenever you need the latest hockey arena information for anywhere in North America.