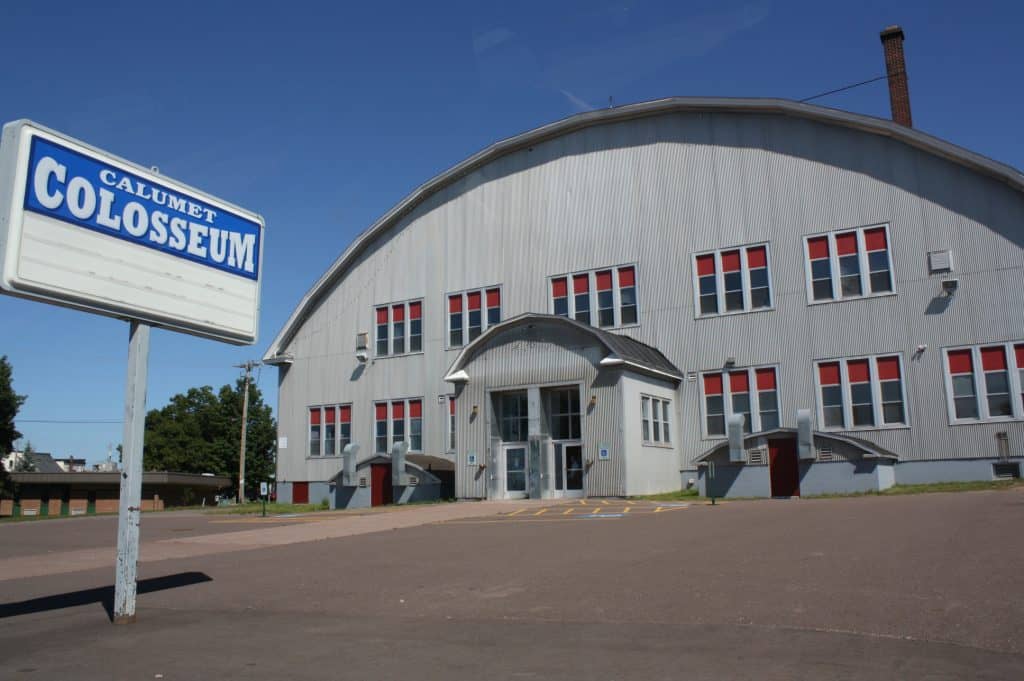 Thanks to friends like Adam Wodon of College Hockey News, we are gathering historical information about arenas in North America.
One of the documents that Adam found and shared with us is Local Ice Rinks in the Copper Country.This is a history of ice rinks in the western part of the Upper Peninsula of Michigan. Ice Rinks in in the Copper Country talks about a few arenas that existed prior to 1900. But the oldest arena that still exists in that area may be the oldest operating indoor ice arena in the world.
The Calumet Colosseum in Calumet, Michigan was built 1913 and is still in use today.  It was featured in the article 100 Years Young: Calumet Colosseum in USA Hockey Magazine four years ago.
Built with Volunteer Labor During a Mining Strike
The USA Hockey Magazine article talks about the ice plant being built with volunteer labor. During a strike at the Calumet and Hecla (C&H) Mining Company, the striking workers volunteering to build the ice plant.
Indoor Ice Without Refrigeration Until 1968
The Colosseum only installed an artificial ice plant in 1968. It was only able to host indoor ice hockey from 1913 to 1968 due to the cold temperatures on Michigan's Upper Peninsula during the winter.
Other Claims to Oldest Ice Arena
Some hockey historians claim that Galt Arena Gardens in Cambridge, Ontario is the oldest arena in hockey. But they call it the "oldest continuously-operating ice arena", which may be a valid claim since Calumet Colosseum doubled as an armory for much of its history.
Local Ice Rinks in the Copper Country calls Galt Arena Gardens the second-oldest arena still in use, opened in January 1922, and Baker Rink in Princeton the third oldest, completed in 1923. These are all buildings that have not been destroyed by fire and rebuilt.
Most NCAA Ice Hockey historians consider Matthews Arena in Boston the oldest arena in College Hockey. It originally opened as Boston Arena in 1910. But that arena burned in 1918 and was rebuilt in 1921. Boston Arena served as the first home of the Boston Bruins of the NHL from 1924 to 1928.
As a result of the articles that Adam has sent us recently, we have a good amount of historical information about arenas that can be incorporated into RinkAtlas.  We're also beginning a trial project to document the closed arenas in New Jersey with an eye toward writing a history of arenas in the Atlantic District of USA Hockey in the future.