The Reno Gazette-Journal reported on Friday that construction on the first phase of a new single-sheet ice rink south of Reno Nevada should be completed in December. The rink will be named The Jennifer M. O'Neal Community Ice Arena, also known as Reno Ice.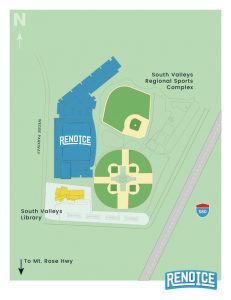 According to the article, "Reno Ice will have private lessons, public ice skating sessions, hockey leagues, broomball, curling, trade shows, tournaments, performances and figure skating."
Brad Richter, the construction superintendent on the project reportedly is a hockey player himself, having grown up in Waunakee, Wisconsin and played for the Madison Capitols of the USHL.
The arena is part of a larger South Valleys Regional Sports Complex, which includes mutiple baseball and softball fields.
By RinkAtlas' count, this is only the ninth arena complex in Nevada, and that counts some major sports arenas that are normally inaccessible for amateur hockey and figure skating. Nevada is definitely under-rinked, considering its rapidly-growing population.
RinkAtlas Arena Directory Updates