WROC reports tonight that an ice resurfacing machine caught fire at Bill Gray's Regional Iceplex in Rochester NY. There was no apparent damage to the building and WROC reports that no injuries were reported.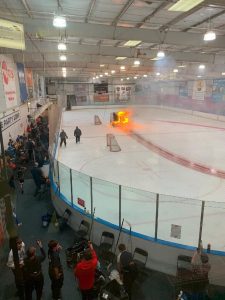 The Olympia ice resurfacing machine caught fire just after it had begun resurfacing the ice in one of Bill Gray's Regional Iceplex's four 200-by-85-foot ice sheets. The driver, Jordan Curtis, managed to keep the Olympia moving while it was on fire until it exited the ice through the service doors. At that point the fire was put out, presumably by fire extinguishers.
Russ Bitely who appears to have been in the building when the fire broke out also apparently captured video of the later stages of the Olympia fire.
From the appearance of the ice in the photo and the video, it appears that the Olympia began leaking hydraulic fluid on to the ice as soon as the driver put the conditioner down on to the ice.
According to machine specifications that RinkAtlas reviewed on the Zamboni.com website, a modern ice resurfacing machine is normally loaded with 16 gallons (60.6 liters) of hydraulic fluid. Many common hydraulic fluids are flammable, which probably explains the fire that broke out aboard this Olympia.
Here's another angle on the fire, grabbed by Mary Prusak from the LiveBarn feed for Bill Gray's Regional Iceplex. In this clip, you can see that the Olympia pulled on to the ice, lowered the conditioning unit amid a loud revving sound, began leaking hydraulic fluid on to the ice, and almost immediately burst into flames. Taking these two videos together, RinkAtlas estimates that the resurfacing machine driver drove about 350 feet with the Olympia in flames.
This article is an example of the news coverage about ice arenas and the hockey business in North America that you can find at RinkAtlas. For more RinkAtlas news, visit https://rinkatlas.com/blog.
Updates on the Story
On October 16, we learned that the ice resurfacing machine that caught fire was an Olympia, not a Zamboni-brand machine. You can see the branding of the resurfacing machine on the LiveBarn video clip posted by @maryprusak. But credit for that discovery actually goes to Marcia Greenwood of the Rochester Democrat & Chronicle in her article Ice-resurfacing machine catches fire while cleaning Brighton rink; driver extinguishes blaze.
How Other Media is Covering This Story