Social media reach is extremely important to all apps and web services. Since we relaunched RinkAtlas as a responsive website in 2016, we depended upon our social media channels to tell the world about our services. Our social media channels are:
We try to share the same messages on each of our channels. However, we are frustrated by artificial restrictions that Facebook places on business use of Facebook Pages and Instagram accounts. Here are a few
examples related to our #SaluteToLocalRinks promotion that began yesterday.
We thought it would be a good idea to commemorate Salute To Local Rinks Day of Hockey Week Across America by sharing a photo collage from one U.S. hockey arena on Twitter, Facebook, and Instagram every 15 minutes for the entire business day. Our goal was to spotlight 50 arenas.
Twitter
With Twitter, there was absolutely no problem tweeting 50 times in a 10 hour period on @RinkAtlas. Twitter natively supports four photos embedded and allows a URL in the body of each tweet, so we can show several photos of an arena and provide a link to the arena's page on RinkAtlas.
Facebook
The good news about Facebook is that each post is structured more like a blog entry; We can attach several photos and write a good amount of text.
Facebook may allow more than 50 posts per day on a Facebook page, but Buffer our social media management service, gave this advice in their FAQ, Daily Posting Limits:
… Facebook recommends up to five posts per day, but 25 is really the upper limit they allow without negatively impacting the reach of your posts.
We didn't see this until after the campaign had been planned and entered into Buffer. So we rescheduled 25 of our Facebook page posts for after 5pm on Friday, which is 24 hours after we were initially rate limited.
If Facebook algorithms implement a no-more-than-25-posts-within-24-hours policy, otherwise reach is constrained, that's onerous. We'd prefer something like, no more than 25 posts in a calendar day, but the post count resets after midnight in your primary time zone.
Instagram
Instagram limits posts to 100 per day, which is more reasonable than Facebook.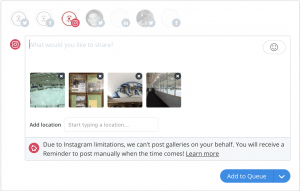 The big restriction that Instagram has on its service is its API does not permit the creation of galleries. This is illustrated in this screenshot from the Buffer Publish tool.
Since we can't schedule gallery posts on Instagram, we have to choose one photo per arena.
Another restriction unique to Instagram is that URLs are not permitted in the body of a post. This makes RinkAtlas posts on Instagram fundamentally different from our tweets and posts to Facebook pages.
Not having links in posts differentiates Instagram from Facebook. But it also really limits Instagram's value for telling RinkAtlas' story. People follow RinkAtlas on Instagram because they love hockey arenas. They think the stories we tell are compelling. So why can't we drive traffic to a RinkAtlas arena detail page or RinkAtlas blog entry?
We know that RinkAtlas is a small publisher. Our use case for Facebook Pages and Instagram isn't among the use cases that Facebook is really trying to restrict. But their restrictions limit the utility of their services to us and our users.
We hope that you will continue to follow RinkAtlas on all of these social media channels. But this is why the best RinkAtlas social media experience will continue to be on Twitter.